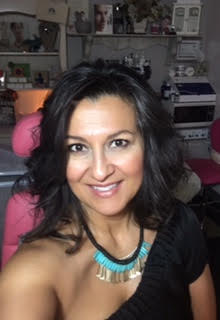 [
Licensed Esthetician & Makeup Artist
Specializing in Advanced Skin Care Technology & Oncology Skin Treatments
Emily's skin care interest began at age 16 and by age 19 she had her first part time position in the beauty industry and has been hooked ever since. In 2001 she opened her first Skin Care Studio in Calabasas.
When you place yourself in her hands, you will find Emily's Skin Care is a place where you will feel confident and comfortable knowing you are being treated with the best of care and experience.
She feels it is very important and necessary to continue to expand her education, training and certifications in order to continue to provide results oriented treatments. Having the most up to date training and knowledge in todays world of skin technology is essential. Emily is licensed, certified and trained in Esthetics, Makeup Artistry, Oncology Skin Therapy Esthetics and also incorporates Restorative Healing Therapies such as Energy Healing & Touch Therapy into her skin treatment practices.
During her 30+ year career, she has worked in many divisions of the beauty and restorative healing industry utilizing a variety of professional skill sets.
Experience: Esthetics - Advanced Skin Technology Treatments & Equipment - Holistic & Restorative Energy Therapy - Makeup Artistry - Skin Specialty Education - Custom Blended Mineral Makeup
Skin Care Product Training - Retail, Professional and Medical
Oncology Trained & Certified - Oncology Spa Solutions
Restorative Healing Touch Therapy
Her professional career began in 1984 and has held the following positions:
Sales - Marketing - Management - Trainer
On-site & Freelance Makeup Artist - Master Custom Blender - Educator
Salon & Spa Service Sales Consultant & Educator
February 2001 - Licensed Esthetician Certification
Special note from Emily
Today, skin care and my clientele are very important to me. It is hard to express how rewarding it is when you find your niche in life. I genuinely love what I do and sharing it with you. When I was a young girl I always dreamed of having my own skin care business. However, I never knew my name would be my mission.
E very
M inute
I
L ove
Y our
S kin
Skin Care
I look forward to being able to help you maintain or achieve healthy beautiful skin through proper treatments and the technology available to do so. Providing you with the proper home care is essential to maintaining your new healthy beautiful skin. Recommendations are provided to every guest of Emily's Skin Care. There are a variety of treatments, services, series and membership packages available for you. In addition, new treatments, equipment and products are added every year. Only the best for you, always.
Conditions Treated Include:
Acne - Anti-aging - Cellulite - Detoxing - Fine Lines
Inflammation - Loss of Elasticity - Melasma
Pigmentation - Rosacea - Touch Therapy - Wrinkles & more.
Skin Treatments Include:
European - Glacial/Lava Shell - LightStim - Oxygen - Microdermabrasion - Vacuomobilization
Oncology Skin Touch Therapy
Peels: Glycolic - Glycopolymer - Lactic Acid - Salicylic Acid
Makeup Artistry: Application - Lessons - Minerals/Custom Blended Minerals
Certified Brow Artist: Brow Design - Shaping - Tweezing
Specialty Waxing: Brow - Lip - Chin - Face
Medical Grade Personal Paraffin
Extensions: Eyelash - Brow
There is so much I can share with you.
I look forward to seeing you soon,
Emily